Each new MicroPower Guard filter comes with a Lifetime Warranty that will cover the cost of replacing the powerhead for free if it fails to perform properly under normal residential use.
Warranty Period & Validation
Your new MicroPower Guard ("MPG") Filter is warranted to you, the original purchaser, for as long as you own and maintain your MPG Filter Unit. In addition, there is a 10 year warranty from the date of original purchase invoice for any subsequent owner, which includes all supporting invoices or receipts showing only new MPG Replacement Pads, purchased or supplied by an Authorized MPG Dealer which have been used in a regularly scheduled maintenance program, recommended during normal use, where the existing MPG Filter pad is changed for a new clean MPG filter pad, each three months from the initial date of purchase. These warranties are non-transferable.
What Is Covered
If your MPG fails to perform properly under normal residential use during the warranty period, it will be repaired. You will not be charged for the MPG filter or replacement parts and only pay for the labor required to fix or install.
What Is Not Covered
This warranty does not cover any other system components or other replacement media.
Authorized MPG Dealer
An Authorized MPG Dealer must restore or replace your MPG Filter to proper operation.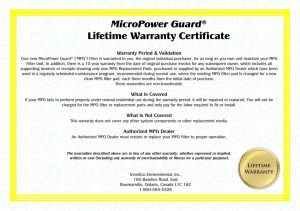 The warranties described above are in lieu of any other warranty, whether expressed or implied, written or oral (including any warranty of merchantability for a particular purpose).
InnerEco Environmental, Inc
160 Baseline Road, East
Bowmanville, Ontario, Canada L1C 1A2
1-800-565-5326